Herbert Family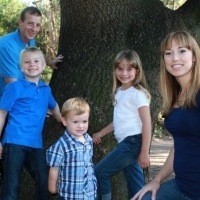 Shane and Jessica Herbert and their three children are the Herbert Family missionaries. Shane and Jessica serve as the Director of Teams for the El Ayudante mission in Comayagua, Honduras.
About El Ayudante
The original vision behind El Ayudante began because of one man's decision to follow the Lord's guidance. While attending Southern Baptist Theological Seminary in 1996, Mel Cox was invited to come and speak at a youth camp in Honduras. Because of that trip and various family ties in Honduras, Mel felt compelled to help meet the physical and spiritual needs so prevalent there. In 1998, El Ayudante Inc. was founded in the United States, with the focus of sending children in Honduras to bilingual Christian schools through scholarships.
In 2004, Mel and the board of directors placed more of their efforts in the Comayagua valley, in hopes of starting a medical clinic that would serve the mountain communities of Comayagua. They found land in Lo De Reina and purchased it by agreeing to pay the taxes that the landowners owed. Years before, an old man had spoken over the land saying it would be used for ministry. When Mel and his team got there, the landowners asked, "Where have you been all this time?" Truly this community had been waiting for something big.
As we look back at the history of El Ayudante, we see how God called a bunch of regular people to do an extraordinary thing, and through their obedience, God has made big things happen. We now wait with anticipation of what God has for the future.
El Ayudante's Mission
To grow committed followers of Christ by meeting the needs of our community.
El Ayudante's Vision
Changing lives, transforming communities.
El Ayudante's Values
– Service through relationships
– Local leadership & ownership
– Excellence in all things
How we do ministry
We are committed to glorify God through intentional relationships and service to our community. We involve the local community in creating their own solutions to the physical, emotional, and spiritual challenges they face every day. We aim to empower and not enable by collaborating with families, churches, and local leaders to work as a team to solve the presented needs. We are here for the long term—although we use the energy of short-term missions' teams to meet needs. Each activity fits into the larger picture of serving our communities where they need it the most. Because of this consistent involvement, a short-term project is part of a lasting, long-term change.