Kessie Endsley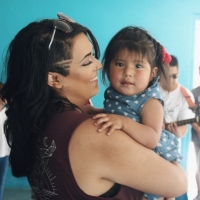 kessie.endsley@ywamsdb.org
Kessie Endsley grew up in Yuba City and attended Faith Christian School K-12, graduating in 2011. She started attending Adventure Church in February 2016. Shortly after, God told her to receive missions training through YWAM (Youth With A Mission) in Ensenada, Mexico. On the flight down to Ensenada, God told her that this is what He wanted for her—to be a missionary using music and her story. She is now on staff with YWAM, stationed at their Tijuana base. She serves with Homes of Hope, building homes for people in need, leading worship, ministering in the red light district (the largest in North America), leading in Mission Adventures (a week long mission program for families and churches), and helping in YWAM's training schools.
To give to Kessie online, go to:
click either monthly or one time
give to Kessie Endsley
To give to Kessie by mail in a check or cash:
Make checks out to YWAM San Diego Baja
Place a note in the envelope that the check is for Kessie Endsley-TJ
Send to YWAM San Diego Baja, P.O. Box 5417, Chula Vista, CA 91912
All support sent through YWAM is tax deductible.